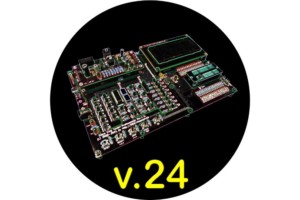 This update may reset the configuration to the default setting. After the update, the SD card and other settings have to be made again.
New Features
simple clock generator (300 Hz to 8 MHz in 46 steps) added
Logic ICs can be identified
Improvements
2332 option added for (high/high) chip select.
new flag for custom SRAMs "WE before CS" for special ICs (e.g. EMM 4200)
Bug fixes
Displaybug (integer overflow) in Loop-Testing fixed.
New Adapters
The Gerber data for the current version of the adapter has already been published. The schematics of all adapters are available in the BOM.pdf now.
New Memory ICs supported
New Logic ICs supported
New Custom Definition Files
There are new definition files for special memory modules.
Manuals
The manuals have been updated and can be downloaded from my website.
The interactive IC comparison list has also been updated, as have the PDFs with the supported ICs.
Untested ICs
Unfortunately, of the over 1200 logic ICs that have now been implemented, a few tests could still not be verified because I don't have the IC for these (this also applies to a few SRAMs, DRAMs and ROMs). I am grateful for any support here.
Links